PARIS/BOSTON – MEGA International, a global software firm recognized as a leader in enterprise architecture for 11 consecutive years, is hosting a virtual global conference on enterprise architecture and risk management. Open to all,  from November 3 to 5, this event aims to analyze the latest trends and examine best practices in enterprise architecture and risk management that accelerate business transformation. 
An interactive conference accessible to all
To overcome the constraints imposed by the Covid-19 pandemic, MEGA is adapting and organizing this online event to include MEGA experts, industry leaders, and customers, all discussing the latest market trends, challenges, and practical solutions. The format of the Enterprise Architecture & Risk Management Exchange conference will be based on short presentations and an interactive conference Forum, which will open the day before the event.
This conference will take place over 3 days, from November 3 to 5, 2020, during different time slots to serve global attendees regardless of their location. Accessible to all free of charge, all sessions will be in English or French with discussions lead by local stakeholders. To register for a session: www.mega.com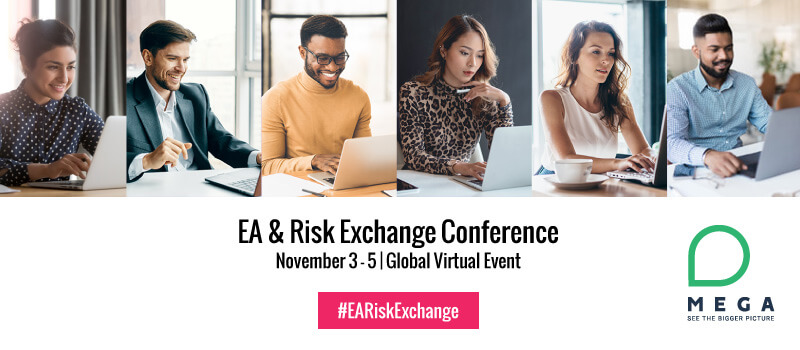 Sessions 1: Enterprise Architecture supporting agility and creating business value 
To achieve IT and organizational transformation projects, companies must have precise knowledge of the resources at their disposal and ensure that the expected results are aligned with business objectives. MEGA supports companies in this process by offering a global vision of the organization to ensure alignment of projects with strategic business objectives.
During the Enterprise Architecture Track, MEGA and industry experts will demonstrate how to solve digital challenges through an outcome-driven enterprise architecture approach.
To illustrate this, MEGA has three clients presenting success stories: Nordea, Sodiaal, and Teck Resources. They will showcase how they used enterprise architecture to optimize their performance and gain agility.
Sessions 2: Risk management in a changing and crisis context
The Covid-19 pandemic has shown the limits of some organizations when it comes to adapting to risk. This was particularly the case when a lack of alignment between IT and business made it difficult to use remote work, for example. This health crisis reminds us of the need to anticipate risks and quickly implement an appropriate business continuity plan.
The sessions dedicated to risk management will highlight the reasons why understanding operational risks are critical. Primarily intended for risk managers, internal controllers, auditors, and compliance officers, the risk track will show how to deal more effectively with risk as a whole and no longer in silos.
Case studies from PwC, Edison SpA, the European Investment Bank (EIB), and A&D Contadores Públicos will focus on the importance of understanding operational risks and the emergence of a real "risk culture" in companies.
           
"The health crisis we are going through is changing the way everyone works. We have seen that it is the technology that has enabled companies to maintain their activity during periods of lockdown. In the months to come, with an uncertain economic environment, we will see that it is once again IT that, by supporting transformation projects, will allow us to gain agility and innovate to maintain and accelerate growth.
But all of this is only possible if IT resources consistently support the organization's business ambitions and if the risks are anticipated. On these two aspects, MEGA's solutions and its experience of nearly thirty years in this field, provide real added value".
-
Lucio de Risi, Founder and CEO of MEGA
About MEGA 
Founded in 1991, MEGA international is a global software company and a recognized market leader. The company partners with customers to improve governance and accelerate transformation by leveraging technology. MEGA helps companies better analyze how they can operate and make the right decisions to accelerate the creation of value. The HOPEX Platform connects business, IT, data, and risk perspectives in a single place that integrates across an entire company's ecosystem. The MEGA Services team partners with customers to deliver projects with a pragmatic approach.
#EARiskExchange